Here is the collection of 100+ Special Happy Birthday Wishes. This Speechless and Special Happy Birthday Wishes are Advisable to Perform the Happy Birthday of A Kind Person and Remember them in your Memories.
That you are to much close with Him/Her and love them very much. If you are going to follow this He/She will be Welcome the gesture and will be thankful to you with his/her Heart.
I am 100% Sure that he/she will be thankful and happy with the gesture. These Marvelous and Special Happy Birthday wishes are excellent for those Such as A Brother, A Sister, A Family or A Bestfriend who wishes to wish a Special happy birthday in an initial and Particular way.
100+ Special Happy Birthday Wishes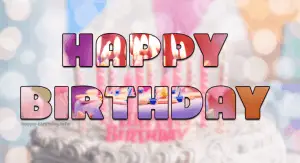 "Wishing you health, love, wealth, happiness and just everything your heart desires. Happy Birthday."

"Good health and happiness all your days…and double on your special day. Happy birthday!"

"Let us fly together through the breeze of love on your birthday."

"You are never too old to learn something new. You are never too awkward to try something different. Welcome to another chapter of your life."

"Nothing can be as joyous as spending time with you, let today be the best of all so far. Happy birthday, friend, you are loved."

"Whenever I was in trouble, you always had my back. Happy birthday, dear."

"Sending you birthday wishes filled with praises wrapped in all my love.Happy Birthday, baby!"

"You are the only person whom I consider to share my all success and failure. I am very happy to have you in my life. A lot of love and Happy Birthday!"

"Having you as my life partner make my life full of beauty. You are so supportive, that I always feel confident. I wish your life flood with happiness."

"Here's to the sweetest and loveliest person I know. Happy birthday!"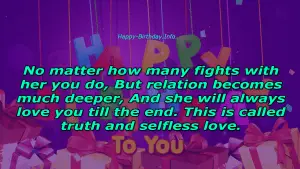 "I'm so glad you were born because you brighten my life and fill it with joy."

"On your birthday lots of people are thinking of you. I just wanted to let you know that I am one of them. Happy Birthday!"

"I hope that today is the beginning of a great year 4 U."

"I hope that For every candle on your cake you get a wonderful surprise. Happy B'day."

"You celebrate your birthday I'm also coming & we enjoy together. happy birthday to you."

"You are more than a great Dad. You are an inspiration, a teacher and a friend. Happy Birthday."

"You gave me everything more than I need, thanks for all those things dad, happy birthday"

"To a beautiful, kind, thoughtful and treat Mom on her birthday. I love you. Happy Birthday."

"Go you, it's your birthday, we're going to party like it's your birthday…"

"My favorite brother in the world, and my only brother, I wish you a very happy birthday."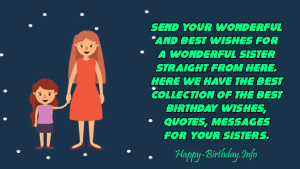 "May all of your birthday wishes come true on this glorious day."

"I Have Been Looking Forward To Your Birthday Just So I Can Drown You In Gifts. Happy Birthday To The Best Friend A Person Could Ever Dream Of Having!"

"For Many People, The Word Friend Is Just A Sequence Of Letters. For Me, It Is The Source Of Happiness And Strength Because Of You. Happy Birthday, Buddy!"

"You are my mentor and supporter in every sphere of life. I am indebted to you beyond repayment and I wish you the very best on this special day."

"Don't regret the grey hairs on your head. Aging is a privilege granted to a select few."

"I am so glad you were born on this earth because you have a brighten of my life and filled it with joy and happiness.. happy Birthday day…"

"Happy birthday my dear many many happy returns of the day with lots of love to you my dear."

"You are my soul, You are my goal, Happy birthday my dear loved one."

"Every single important thing I've learned in life, I learned from you, sister. Happy birthday."

"Today on your birthday, I hope to make you smile like you've made me smile over the years. Happy birthday!"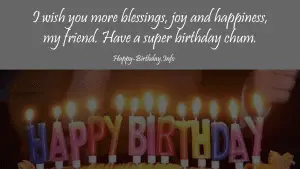 "Many years ago on this day, God decided to send an angel to earth. The angel was meant to touch lives and that happened! Happy birthday my sweet angel!"

"I hope that today, at your party, you dance and others sing as you celebrate with joy your best birthday."

"The rays of sunshine appear dim today… Oh! Because it's the birthday of another star!!…Happy Birthday"

"It's an honor as well as a privilege in life to have a friend who is more like a sister!…Happiest Birthday beautiful!!"

"Wishing you tons of good fortune and happiness.  Happy Birthday!"

" we hope you have the greatest day. Wish you a very happy birthday!"

"Another birthday, so you are growing older gradually. But I find no change in you. You look perfect like before. Happy birthday."

"Dad, you have always been a good friend to me and I hope we will remain forever. Happy birthday."

"Hope your birthday is as wonderful and extraordinary as you are."

"Do not regret growing older. It's a privilege denied to many."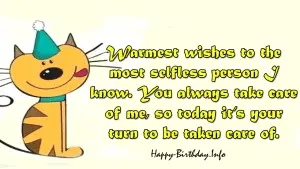 "Your special birthday came and went, here's the gift I should have sent. Happy Birthday!"

"Happy birthday! Although I may not be with you on your special day, I would like you to know that I only have great memories of everything we've done up to this point…and hope you create even more today."

"May this birthday and the coming year bring you good surprises — filled with sunshine, smiles, and sweethearts."

"Happy Birthday and thanks for all you do throughout the year."

"Happy Birthday. There's a whole lot of love, and a great big kiss too, in this birthday greeting dear hubby that's coming to you."

"I am so lucky to have you in my life! You make every day special. Happy Birthday!"

"Don't think of it as turning 75.  Think of it as turning 18 with 57 years of experience."

"I'm so blessed and grateful to have such an amazing Mom like you.  I hope your birthday is as wonderful as you are!"

"Happy Birthday my friend! My day brings you much joy and happiness."

"It took longer than planned, but I'm glad we got our Luke's coffee this morning! At least we made new friends. Happy birthday!!"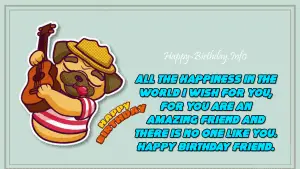 "May all your dreams and wishes come true and God blessed you more."

"Count not the candles…see the lights they give. Count not the years, but the life you live. Wishing you a wonderful time ahead. Happy birthday"

"Hope your special day brings you all that your heart desires! Here's wishing you a day full of pleasant surprises! Happy birthday!"

"Birthdays are the reasons to celebrate the new year of life. Be ready for a new adventure dear!…Happy Birthday!!"

"May you accomplish every goal which you have designed for your life.Happy Birthday, dear!!"

"May this day be so happy that smile never fades away from your face."

"May your birthday mark the beginning of a wonderful period of time in your life!"

"Happy Birthday My princess! My wish is for you to enjoy your life and chase your dreams. May you always stay healthy and happy."

"Today is your bday and night is young. We will dance the whole night and make this moment memorable. Happy Birthday, Dancing King!!"

"On your birthday, I want you to know how lucky I feel to have an awesome friend like you. My best wishes, my dearest friend! May all your aspirations come to pass."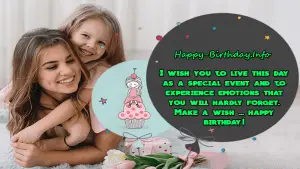 "On your birthday, I wish you plenty of smiles, laughs, and love. May you forever be blessed by others the way you have been a blessing to me."

"I still remember how happy I was when I first laid eyes on you. I've been proud ever since. Happy birthday."

"No matter how much I grow up, still it seems that we were young yesterday. Love you so much. Happy birthday."

"Have a great birthday with all the love, laughter and joy you deserve."

"May your birthday be filled with hours upon hours of joy and love. Happy birthday."

"Here's to your special day. Let's make it a truly special celebration. Happy birthday."

"It must be raining when you were born. Wondering why? Because all angels must be crying as their best star was sent to earth. You are the best star! Happy birthday!"

"There is no problem in getting old if you have settled your life plan early. Happy birthday!"

"Whenever I am feeling down in life, I just think of you, because your smile lights up my life. Happy birthday"

"May your smile as bright as the candles on your cake."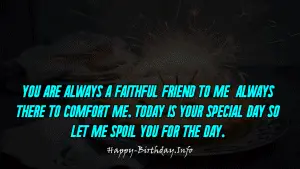 "May you always get what you ask for, but you may always the right things. Happy Birthday"

"I may not be by your side celebrating your special day with you, but I want you to know that I'm thinking of you and wishing you a wonderful birthday."

"On your birthday, I only have one important wish for you. Be happy, be healthy and be wise today and always. Happy birthday."

"Congratulations on this amazing milestone. May this day be filled with sunshine and smiles, laughter and love. Have a very Wonderful Happy Birthday."

"Wishing you everything good today, tomorrow and forever…Have a blessed Birthday!!"

"You are a beautiful soul and I feel so blessed being married to you.Happy Birthday my Queen!!"

"Let your all the dreams to be on fire and light your birthday candles with that. Have a gorgeous birthday."

"May the joy that you have spread in the past come back to you on this day. Wishing you a very happy birthday!"

"I wish you a day filled with great fun and a year filled with true happiness!"

"I want to wish you all the love and happiness in the world, all of which you deserve. Happy birthday my friend!"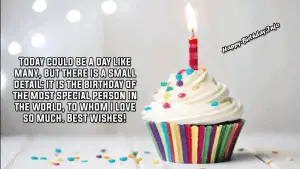 "On this special day, May God bless you more and more. Happy Birthday"

"Remember it's not the years in your life that matter, it's the life in your years. Here's to wishing you a blessed 100th Birthday!"

"To celebrate your life and in recognition of the brightness that you have brought to the lives of others, 100 candles we light…just for you! Happy Birthday!"

"On this special day, I wish you all the very best, all the joy you can ever have and may you be blessed abundantly today, tomorrow and the days to come! May you have a fantastic birthday and many more to come… HAPPY BIRTHDAY!!!!"

"What is the secret to getting to 100I would like to know I think it is the good Life choices you have made laughter being the key, as laughter brings Joy and with Joy comes good health more laughter please, Have a wonderful 100th Birthday!!"

"You're a very special man who has always been thought of in the warmest way. Wish you a fantastic Birthday."

"Wishing you happiness welcome each morning, Wishing you laughter make your heart sing. Wishing you friendshipSharing and caring, And all of the joyThe birthdays can bring!"

"You are special and I hope that you float through the day with a big smile on your face. Happy Birthday!"

"Wishing my friend a beautiful day hopes and dreams I'm sending your way may all be good and all come true this very special day for you!"

" Happy Birthday !! Have a wonderful happy, healthy birthday and many more to come."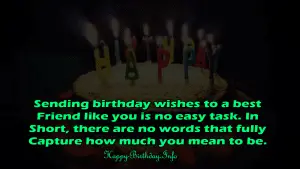 "I love you because of what you do for me: You encourage me when I'm down, You make me feel good about myself, You make me laugh, You show me your love in so many ways. Happy Birthday, my love and my friend!"

"May all your wishes come true but one, so you always have something to strive for. Happy Birthday!"

"Thank you, sister… for always being there on my side and for helping me in those infinite ways which I might not even remember.Happy Birthday to a loving and caring sister!"

"The only reason you hate your birthday is that people give you odd gifts, scary cards with weird messages in them and because you're getting older. Happy Birthday!"

"We know that wisdom comes with age. You see, you don't have all the signs of aging! Happy Birthday!"

"May your love, happiness, and friends always stay with you. Wish you a very Happy Birthday!"

"Jolly, lovely and most important day of my life – Your birthday."

"A friend is someone who understands your past, believes in your future, and accepts you just the way you are – even if you are getting older. Happy Birthday."

"Welcome to the centenarian club. Very few people get into this exclusive group. For most, the initiation fee is just too steep. I always knew you were unique. You've always stood out in my life. Happy 100th birthday!"

"100 warm wishes, hugs and kisses on your 100th birthday. You deserve it, so you'll have to sit still when we all give them to you. Happy 100th birthday!"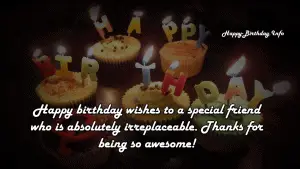 "Many happy returns, you're a jolly good fellow, auld lang syne and all that stuff."

"May well wishes, fun, gifts, cake, puppies, rainbows and everything nice come to you today."

" May your day be an unforgettably momentous occasion that people talk about for years."

"Having you as a friend is my every day gift; let me be your gift today."

"Wishing you the loveliest morning, noon and night on your special day."

"May you have tons of happiness and joy on your birthday. Happy Birthday buddy!"

"May you find pleasure everywhere, and may every moment today make you smile."

" The whole world is in on the secret that there is something incredibly sweet about you. Happy Birthday."

"Spend your fame, save your money. That is my gift of birthday advice that celebrities like you need to remember."

"I am glad that you have a sunny disposition because the 10-day forecast is for you to get older every day! Happy Birthday!"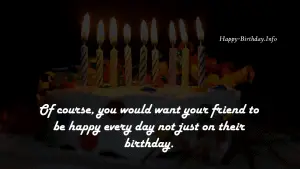 "May birds sing and flowers cover your path to a happy life as you celebrate your birthday."

" I am glad that you have a sunny disposition because the 10-day forecast is for you to get older every day! Happy Birthday."

" Appreciate experiences that are repeated in everyday life. Also, appreciate those that come just once per year. Happy Birthday."

"Celebrate your birthday, go have lots of fun, everybody should enjoy it and have tons of fun. Happy Birthday."

" Great people not only accomplish great things and they have great friends that wish them a great birthday!"

" Investigators continue to search for proof that you could be getting older because there is no evidence since you look as young forever. Happy Birthday"
Read Also: 100+ Romantic Happy Birthday Wishes
"Peace, hope, and joy be with you, now that is a great birthday wish!"

"Blood is thicker than water. Birthday cake is sweeter than either. Happy Birthday!"

" It would make might happy if you have a mighty happy birthday!"

 "We hope your special day will bring you lots of happiness, love, and fun in life. You deserve them a lot. Enjoy. Happy Birthday."

 "Let your all the dreams to be on fire and light your birthday candles with that. Have a Best ever birthday."