Happy Teacher's Day is  Celebrated on the 5th of September every year. No Matter how old you are,  The Lecture taught by our Sweet Teacher's will not be Forgotten. Teachers are Spiritual Father and Mother of us.  The Spiritual Father and Mother are an Important Role Model of all Educational Institution.
If you are going to wish your Teacher on this Appropriate day to make him feel Awesome and show your Respect and Love how Much you have respect and love in your heart for him.
Simply read complete Article and find out best wishes, Messages, And Quotes for your Sweet Teacher. You can Share it on Social Media Such as Facebook, Instagram, WhatsApp, Snap chat, Twitter, Pinterest, etc.
100+ Happy Teacher's Day Wishes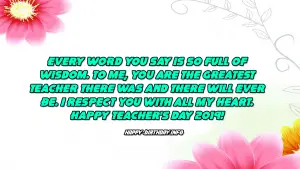 "Happy Teacher's Day 2019 to you. You are my all-time favorite teacher. I have learned many things from you but most of all I have learned how to be a good person in life!"

"Teaching is the best profession anyone can ever have. I feel really lucky to have you as my teacher. Happy teacher's day! Wish you have a wonderful time today!"

"You taught us like a teacher, protected us like our parents and guided us like a mentor. You truly deserve this day so much. Happy teacher's day to my most beloved teacher!"

"Every word you say is so full of wisdom. To me, you are the greatest teacher there was and there will ever be. I respect you with all my heart. Happy teacher's day 2019!"

"The patience and sacrifices of our teachers should be celebrated every day. Not just one day in a year. I wish you all the best on this special occasion. You are my most favorite teacher!"

"You have a very special power of inspiring young people like me. We need more teachers like you in our schools and colleges. Happy teacher's day to you!"

"You show me how to behave properly, you teach me invaluable lessons, and you make me learn from my mistakes. Saying that I appreciate you and what you do for me is an understatement. Happy Teacher's Day 2019!"

"You have always made a difference in your loving and caring ways! Happy Teachers Day! Thank you for holding my little hands and teaching me whatever I know till now mam. Have a wonderful teachers day!"

"Dear Teacher, Thanks for inspiring hope in me; Igniting my imagination ; And instilling in me – a love of learning. Happy Teacher's Day 2019!"

"With a great teacher like you, I was sure that life would be a successful journey but I never knew you will also make the journey to success such a cakewalk. I can't express my gratitude, Sir!"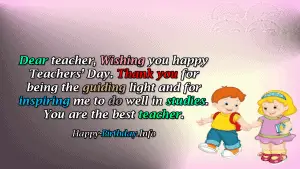 "Dear teacher, Wishing you happy Teachers' Day. Thank you for being the guiding light and for inspiring me to do well in studies. You are the best teacher."

"Thank you for teaching me a subject I thought I could never understand or be interested in. Thank you for making learning fun. Happy Teacher's Day!"

"Teachers are the parents who guide you without any ulterior motive. I thank you, dear teacher – for being my strength and inspiration! Happy Teacher's Day!"

"To someone who has taken the time to listen to my concerns, guide me on the path to knowledge, and reassure me on my life's path. Happy Teacher's Day!"

"You inspired me to reach my goals and achieve my dreams. More importantly, you inspired me to be you. Thank you, teacher. Happy Teacher's Day."

"Your positive attitude has helped to make every day brighter in every way. You have patiently put up with dozens of nerve-wracking students while still helping us to become smarter, positive, and successful individuals. Happy Teacher's Day!"

"As you inspired others… You added meaning to my life too… Thanks for being a great inspirer… Always!"

"You are the best Teacher in this world. Wherever I may go in my life, I will always remember that I had an excellent guide in the form of a teacher, you."

"Dear teacher, Thanks for supporting and enlightening all my way. If only I could have your blessing for a lifetime, I would succeed the way I have done always. Have a wonderful Teachers Day!"

"Dear teacher, you have been a great mentor and guide and have shaped my career well. I thank you for your effort and hope you remain a superb mentor for others also. Happy Teachers Day…"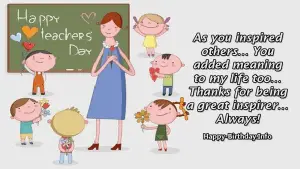 "A simple 'thank you' is probably not enough. Not only have you taught me lessons from the book, but you have also taught me lessons from life. So here's wishing you a Happy Teacher's Day!"

"Teachers have to lead by example, and you have always been an excellent example to follow. As a student, I feel very grateful to have such a great mentor in my life. Happy Teacher's Day!"

"I was lucky to have a teacher as wonderful as you are. Wishing you a Teacher's Day that's full of joyous moments!"

"Thank you for teaching me how to read and write, for guiding me to distinguish between what is wrong and what is right. For allowing me to dream and soar as a kite, thank you for being my friend, mentor, and light."

"They help us strive for goals, they give us model roles, they are such superb souls, that help sprout 'student-poles. Happy Teacher Day."

"You Guided Me When I Was Lost, You Supported Me When I Was Weak, You Have Enlightened me all through. Wishing you a glorious and happy teacher's day!"

"Teacher, you have been a guiding star and I thank you today for all the guidance and education you have showered upon me. Happy teachers day…"

"You are not just a teacher, but a true inspiration to me. You did not just do your job, but a lot more than this. Thank you and have a wonderful Teacher's Day!"

"I don't know how could I repay your effort for Continually Inspires me to do my best, You help me strive for goals, I found guidance, friendship, discipline and love, everything, in one person. And that person is you, Happy Teacher's Day!"

"We are really happy to wish you all the best on this special occasion. You have been a great teacher for our kids. We are thankful to you for every moment you spend on our kids!"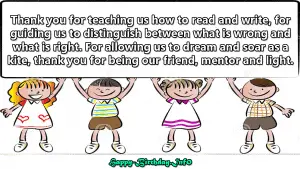 "A good company can be very helpful in building one's personality. You guided him like a mentor and accompanied him like a friend. happy teacher's day to you!"

"It's very hard nowadays to find a good teacher. We are lucky parents to have you as a teacher of our kids. We wish you a wonderful teacher's day!"

"Today is a special day for you. Take a break and enjoy your time. And don't worry, because no one else can take your place. Because you are just the best!"

"Thanks for sharing your wisdom with our kids. We hope someday our kids will grow up to be just as educated and wise as you! Happy teacher's day!"

"Not everyone can be a teacher. Your knowledge and teaching style tells us you are one among the few who are destined to be great teachers someday! Happy teacher's day and wish you all the success in this profession!"

"A gifted teacher is as rare as a gifted doctor and makes far less money… Best wishes for this Teacher's Day!"

"Very few people have the courage and dedication to take the education of today's youth into your own hands, but you are doing an amazing job. Happy Teacher's Day!"

"Sending my love and warmth to you, You have not only been a wonderful teacher but also a friend, philosopher, and guide. May you have a memorable Teachers Day!"

"A good teacher is like a candle burning, It consumes itself to light the way for others. Happy Teachers Day…"

"Never forget how important your job is. The youth of the nation are looking to you for guidance, education, and care. Thank you for all your hard work. Happy Teacher's Day!"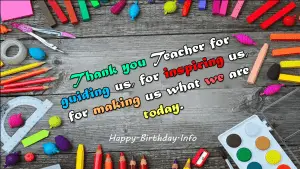 "For teaching children lessons, to help them as they grow, let this card remind you, you're the best teacher we know! Happy Teachers Day!"

"Not everyone has the patience of a saint, a heart of gold, and dedication without end – but you do! Which is why I just wanted to let you know how much you are appreciated. Happy Teacher's Day!"

"TEACHER is a full form of, T-Talent, E-Education, A-Attitude, C-Character, H-Harmony, E-Efficient, R-Relation. Wishing you a glorious and happy teacher's day!"

"The way you teach… The knowledge you share… The care you take… The love you shower.. Makes you the world's best teacher… Happy Teacher's Day!"

"A teacher is the lamp of a Nation. A teacher is the only person who serves society in a realistic manner. Salute to all the teachers of the nation. Happy Teachers Day."

"Here's to a fantastic person who manages to take the time to listen to each of their students daily problems even though you have better things to worry about. Your care and patients have made all the difference. Happy Teacher's Day!"

"Heartiest wishes to you on Teacher's Day! You're the best teacher I've come across… Happy Teacher's Day!"

"Be A Candle, Be A Light, Be A Twinkle, Be A Hope, Be An Inspiration, Be A Great Teacher Forever! Happy Teachers Day..!"

"Thank you for being an excellent educator! We know teachers like you are not easy to find. We appreciate your time, your patience, your ability to make a dry subject interesting, and your smile."

"Better than a thousand days of diligent – the study is one day with a great teacher. Happy Teachers Day!"
"To someone who is a sincere and wonderful person as well as an amazing educator. All of your hard work and efforts are greatly appreciated. Happy Teacher's Day!"

"The joys of learning come from you, for you make things simply wonderful to know…Happy Teacher's Day!"

"A teacher's purpose is not to create students in his own image, but to develop students who can create their own images. Happy Teacher's Day!"

"The mediocre teacher tells. The good teacher explains. The superior teacher demonstrates. The great teacher inspires. Happy Teacher's Day!"

"The best teachers in the world are who teach from the heart, not from the book… Happy Teachers Day!"

"I am grateful to be your student. Thank you for challenging me to be my best and instilling in me a passion for learning. Happy Teachers Day!"

"The best teachers don't give you the answer, they spark within you the desire to find the answer yourself. Happy Teachers Day!"

"My child's future is so much brighter because of you. Thank you for being an outstanding teacher."

"A heartfelt thank you to all the teachers who spend their time, energy, and love to care to educate our children. Happy Teachers Day!"

"Thank you for giving me the tools to dream big and to reach success. Happy Teachers' Day!"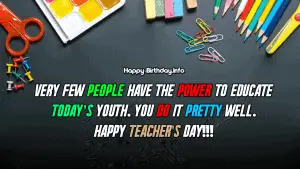 "Keep calm and study on. Happy Teachers' Day!"

"God made teachers for us to become our best. They are simply irreplaceable."

"If I have to grade a teacher like you, I'll give you an A+ all the way through."

"To the world, you may be just a teacher but to me, you are simply the best teacher."

"I'll remember and thank you for always being there for me. Happy Teachers Day!"

"You are the reason why I love learning. Thank you for making education fun and not boring. Happy Teachers Day!"

"A classroom becomes a home for a student who loves learning from a great teacher. Happy Teachers' Day!"

"You are a hero in my book. Happy Teachers' Day wishes to you!"

"Today I celebrate you for being selfless, devoted, hardworking, and the wisest person in the classroom. I am grateful to be your student. Happy Teachers Day!"

"You deserve recognition for all the sacrifices that you make, you are more than a teacher to me and I THANK YOU!"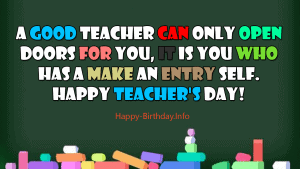 "Teacher, you are the reason I excel in what I do. I wouldn't be who I am today if weren't for you."

"Getting up every day is a joy knowing that I'll be spending the day with the best teacher in the world."

"Thank you for teaching from the heart. Happy Teachers Day!"

"Wishing you joy and happiness, you are an amazing teacher, and you only deserve the best."

"I cherish you, dear teacher, you've touched my life and I can't thank you enough. Happy Teachers' Day!"

"Pushing me to reach my potential led me to dream big and do extraordinary things. Thank you, my teacher!"

"Thank you for lighting, guiding and showing me the way. Happy Teachers' Day!"

"Because of you, a bright future is within my grasp. Thank you for inspiring me."

"Thank you for your patience, putting up with me, and encouraging me in every way. Happy Teachers Day greetings to you!"

"You are caring, enlightening and the greatest teacher I have ever had. I am so fortunate to learn from you."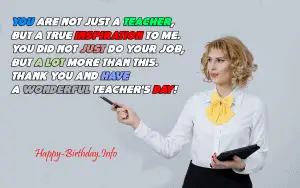 "Happy Teachers Day! You are the reason why I am what I am today. Thank you for being my mentor and my role model."

"Like a candle you are, like a parent you are, like a hero you are always there for me."

"Warm wishes to the teacher who is a great example and who taught me so much. Thank you for giving your love and your 110%."

"For all that you do, for all that you say and for all that you give, you are the by far the best and I thank you."

"You took my hand, you saw my potential, you sparked my imagination, you gave me wisdom. Thank you, my teacher!"

"I treasure you as a gem. Thank you for adding color and substance to my knowledge of life."

"I wish you could see my heart and know how much you mean to me. Thank you for being such a wonderful teacher."

"Thank you for impacting my life by giving me the inspiration I needed and a treasure trove of knowledge. Happy Teachers Day wishes!"

"I have been blessed that you came to my life, you are forever cherished, my dear teacher."

"All the lessons, all the patience, and all the support I say THANK YOU and there is none like you. Have a Happy Teachers' Day!"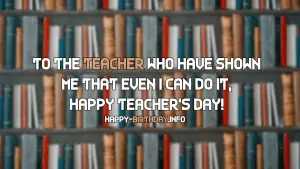 "…teaching is, after all, a form of show business." – Steve Martin

"The average teacher explains complexity; the gifted teacher reveals simplicity." – Robert Brault

"Education is the key to success in life, and teachers make a lasting impact in the lives of their students." – Solomon Ortiz

"A good teacher can inspire hope, ignite the imagination, and instill a love of learning." – Brad Henry

"The art of teaching is the art of assisting discovery." – Mark Van Doren

"I like a teacher who gives you something to take home to think about besides homework." – Lily Tomlin

"I think the teaching profession contributes more to the future of our society than any other single profession." – John Wooden
Read Also: Happy Teacher's Day Wishes
"Teachers can change lives with just the right mix of chalk and challenges." – Joyce Meyer

"What the teacher is, is more important than what he teaches." ― Karl A. Menninger

"Your role as a leader is even more important than you might imagine. You have the power to help people become winners." ― Ken Blanchard

"Share your knowledge. It is a way to achieve immortality." – Dalai Lama XIV

"One child, one teacher, one book, one pen can change the world." – Malala Yousafzai

"A teacher affects eternity; he can never tell where his influence stops." – Henry Brooks Adams

"Education is not the filling of a pail but the lighting of a fire." – William Butler Yeats

"It is the supreme art of the teacher to awaken joy in creative expression and knowledge." – Albert Einstein

"The dream begins with a teacher who believes in you, who tugs and pushes and leads you to the next plateau, sometimes poking you with a sharp stick called truth." – Dan Rather

"Those who educate children well are more to be honored than they who produce them; for these only gave them life, those the art of living well." – Aristotle

"One good teacher in a lifetime may sometimes change a delinquent into a solid citizen." – Philip Wylie